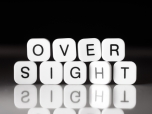 This past December the former COO/ CEO of global PR firm Weber Shandwick was sentenced to prison after pleading guilty to embezzling $16 million from the firm and ultimately its holding company, Interpublic Group, over a 9-year time frame. The fraud was perpetrated in part through the generation of "false and misleading invoices." 
Aside from the individual's character, this news should raise concerns for not just Weber Shandwick's clients, but all agency clients. The lack of solid internal controls at an agency and holding company over such a prolonged period raises obvious questions. "Does my agency have lax controls, and if so, how have they impacted our business? Have any illicit charges been posted to our accounts?" So, if it happened at one agency, it could be occurring elsewhere.
Because of the advertising industry's practice of billing in advance based on estimates and submitting final/reconciled agency invoices to clients without accompanying third-party invoices, it seems that marketers are remiss if they are not conducting periodic contract compliance and financial management audits to assess their agency's financial stewardship practices, mitigate financial risks and dispel potential concerns and embarrassment.
In the words of Norman MacDonald, author of Maxims and Moral Reflections: "Though we may not desire to detect fraud, we must not, on that account, endeavor to be insensible of it, for, as cunning is a crime, so is duplicity a fault…"