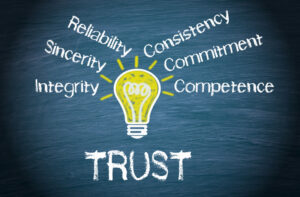 "Trust is the glue of life. It's the most essential ingredient in effective communication. It's the foundational principle that holds all relationships." ~ Stephen Covey
The question often asked of senior marketers by their C-suite peers and in turn by marketers of their agency partners is: "Are we getting optimal value in return for our marketing investment?" This is a simple question, but one that is not easily answered given the breadth and intricacies of an advertisers marketing communications investment.
Let's face it, with the pervasiveness of non-transparent fees and AVBs throughout the supply chain along with the number of intermediaries involved in service delivery (often without the advertiser's knowledge), the strains on working ad dollars are many and can be profound. Combine this with the industry's "estimated billing" methodology that rarely ever provides third-party vendor invoices to support their billing to clients and it is easy to understand the difficulty advertisers have addressing the question of "did we get what we paid for?"
While the challenges to building trust between advertisers and the myriad of suppliers that touch their business are real, the means of addressing this issue is clear… the industry needs to commit itself to providing full transparency at every level.
Marketers will need to take the first step, reviewing all marketing services agency agreements to ensure that there is adequate language granting them audit rights, establishing record retention criteria and extending these guidelines to not just their agencies, but to third and fourth-party vendors. Further language regulating the appointment and monitoring of "interested parties" by their agency partners and limits to the use of principal-based buys must be incorporated into all agreements. Also, clear reporting and invoicing guidelines must be established with each agency partner to provide advertisers with a clear line of sight into the disposition of their marketing spend at each stage of the investment cycle.
Importantly, marketers will need to invoke their audit rights to conduct periodic reviews of agency compliance with these contract terms as well as validate each agency's support of their billings to the client. This is a cost of entry for marketers if they're truly interested in evaluating the efficacy of their marketing investment.
Consider but one aspect of advertising spend, digital media.
Digital media represents more than 50% of client ad spend.

Programmatic buying represents better than 90% of all digital display ad buying.

Publishers only receive 51% of advertiser programmatic ad spend.

Costs such as DSP fees, SSP fees and technology costs represent between 15% and 35% of advertisers' spend in this area.

An "unknown delta" of one-third* of programmatic supply chain costs could not be identified.
*Source: Incorporated Society of British Advertisers (ISBA), Association of Online Publishers (AOP) and PwC "Programmatic Supply Chain Transparency Study."
While alarming, these statistics may represent a "best case" scenario when one considers the poor visibility that exists in the layers of intermediaries between advertisers and publishers, including but not limited to agencies, DSPs, SSPs, Ad Exchanges and data verification vendors… each charging a fee for their involvement. The Association of National Advertisers (ANA), which earlier this year commissioned a study on programmatic transparency, estimates that of the $200 billion plus in programmatic digital media spend "70% doesn't reach the end consumer." Where does it go? According to the ANA "it goes to fraudulent or non-viewable impressions, non-brand-safe placements and unknown allocations, as well as being spent on ad fees."
Take SSPs for example, they typically bundle fees with media costs once an auction is won and an impression purchased. Thus, advertiser visibility into SSP take rates, revenue share deals with publishers, margin realization rates and the number of hops is obscured.
We do not want to belabor the point, but similar examples of limited transparency exist across the entirety of the marketing communications supply chain.
In closing, we believe that the notion of trust is certainly attainable, but not until transparency reform becomes an actionable reality for advertisers. Near-term, advertisers have another reason to push for transparency and audit the financial management practices of their agencies… stagnant and or reduced budget are putting pressure on marketers to do more, with less. The knowledge gained, historical dollars recovered and future savings realized from a formal accountability program can help to refuel marketing budgets.